Concerts 2011
Piano Spring
In March and April we will illuminate three different aspects of the Piano in improvisation; the venue will be the Black Box at Gasteig.
subsonicspace
Our first live date in this year will also be the opening concert of MUG (Munich Underground at Einstein). An ideal place and space for alternative acoustic and cross-border events. Starting in February, there will be one subsonic-Konzert at MUG each month that most of you will still know under its old name t-u-b-e.
For the palindromic opening date at MUG on Friday, 11/02/2011 we have invited the t3 trio: post-free jazz with an unrecognized genius on trombone, the English Alan Tomlinson, and the German bass-drums team of Christoph Winckel and Willi Kellers combining virtuosity, serenity and sheer joy of playing.
Friday, February 11, 2011
MUG - Munich Underground at Einstein
t3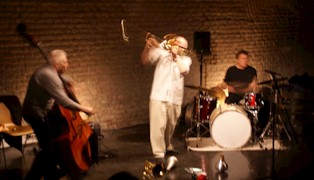 Willi Kellers [drums]
Alan Tomlinson [trombone]
Christoph Winckel [bass]
The opening concert of the MUG - Munich Underground at Einstein - will be a special premiere. For some time now, this trio has wanted to do a live gig together. Tomlinson and Kellers played a fascinating set with guitarist Dave Tucker at the Nickelsdorf Konfrontation in 2009. Winckel and Kellers even played in Munich with Peter Brötzmann many years ago. In the 80's all three shared the stage with Alan Wilkinson in a quartet named "Tommies and Krauts."
High time then, for a concentrated t3. Powerplay can be expected, so fasten your seat belts - we will start the season of 2011 at full throttle!

Thursday, February 24, 2011
MUG - Munich Underground at Einstein
Evan & Urs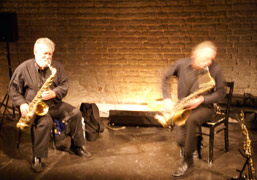 Evan Parker [saxophone]
Urs Leimgruber [saxophone]
Only two weeks after t3 two grand masters of saxophone improvisation will be together on the same stage for the first time: Urs Leimgruber from Switzerland and Evan Parker from England have expanded the expressive spectrum of their instruments in a groundbreaking way and are sure to present us with a breathtaking musical dialogue.
Individual introductions are hardly necessary, since both of them have been frequent guests in Munich. Urs Leimgruber played the first solo concert for Offene Ohren in March 2005 and also participated in other memorable dates for us.
Evan Parker appeared at the Unterfahrt in December during the annual winter journey of the Schlippenbach trio. However, this is the first time he plays in a concert organized by Offene Ohren.

Saturday, March 19, 2011
Black Box at Gasteig
Duo 4M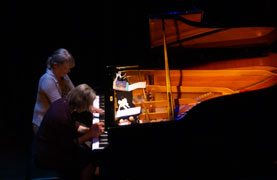 à 4 mains - four hands
Christine Wodrascka [piano]
Geneviève Foccroulle [piano]
Duo 4M is a common project of two pianists, one French, one Belgian. Both are working as improvisers and as performers of New Music. Based in Toulouse, Christine Wodrascka has ongoing projects with Spanish drummer Ramon Lopez, pianist Sophie Agnel, guitarist Raymond Boni and trumpeter Jean-Luc Cappozo; she also works with Joëlle Léandre.
Born in Liège, Belgium, Geneviève Foccroulle has become known most notably through her performance of Anthony Braxton's entire piano works on CD. Beyond that she is currently active in several New Music ensembles as well as one improvisational duet with trombonist Frédéric Filiatre.
As a duet Duo 4M Wodrascka and Foccroulle play together on one piano. This approach is not aiming at a doubled virtuosity but at a musical exchange of thoughts of two individuals on one common instrument. Perfectly wonderful !!

Thursday, March 24, 2011
MUG - Munich Underground at Einstein
Davies+Gauguet+Schiller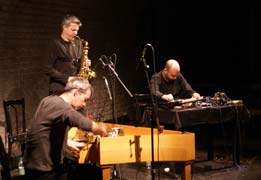 Christoph Schiller [spinet]
Bertrand Gauguet [alto saxophone]
Rhodri Davies [harp]
In March a bordercrossing European formation with unusual lineup will come to the MUG: harp with and without electronics, alto saxopone and spinet will bring us some fascinating surprises.
The spinet is an instrument associated with Bach, Händel, Haydn, just as the harp will probably remind you of classical romanticism or Latin folklore. Here though, we will be able to experience these instruments in an abstract setting - as sound generators between fragility and furor. New insights guaranteed!

Friday, April 01, 2011
Black Box at Gasteig
Grew & Grew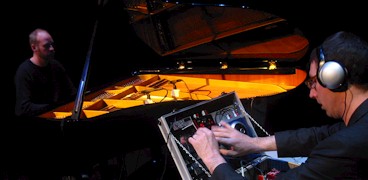 Stephen Grew [piano]
Nicholas Grew [electronics]
England's improv scene is alive and full of surprises, offering new names, unusual lineups or projects spanning generations that give rise to unexpected results. In the case of Grew & Grew it is the discovery of a whole new array of musical facets by a well-established player.
Stephen Grew has been active in the mid 90's with his own trio and later in duet with Mick Beck. The duet with his brother Nicholas is completely different. On the one hand abstract and austere, on the other hand immersing itself in grand roughhewn soundsheets. It is a duet that engages through a wealth of overtones.

Thursday, April 14, 2011
MUG - Munich Underground at Einstein
Sehnaoui+Battus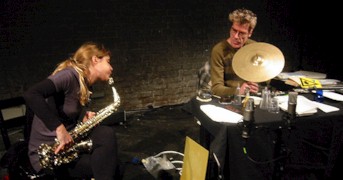 Christine Sehnaoui [saxophone]
Pascal Battus [sound artist]
April will bring us a duet from the next generation: Lebanese-French saxophonist Christine Sehnaoui encountering sound artist Pascal Battus with his amplified and unamplified, acoustic and electronic objects. We can expect tension and friction, dissonance and dissolution, spontaneity and playfulness as well as a meticulous investigation of subtle details.
Industrial, free jazz, minimal drones, new ambient - but maybe also none of these - are characteristic starting points for this duet's sound explorations.

Wednesday, April 27, 2011
Black Box at Gasteig
Dawn of Midi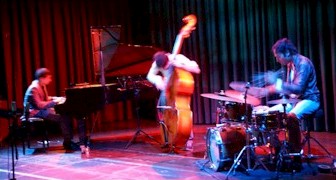 Amino Belyamani [piano]
Aakaash Israni [bass]
Qasim Naqvi [percussion]
Dawn of Midi recorded their first CD in spring 2010 after having played together for three years. And you can hear it!
Only rarely does a debut cause such a stir. Instinctively certain interaction, an incessant succession of surprises, the playful cultural crossover, an effortless flow of complex rhythms, the naturally dissolving opposites of free jazz and melancholy, blues and constructivism - truly magnificent!
And this is really only the time-honored combination of piano, bass and drums? Yes indeed.

Friday, May 13, 2011
MUG - Munich Underground at Einstein
Studer – Frey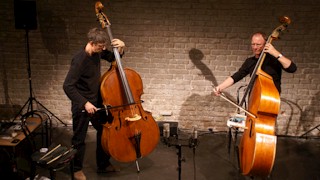 Daniel Studer [double bass]
Peter K. Frey [double bass]
Subsonics in the best acoustic sense of the word and much more can be expected from Swiss double bass duet Daniel Studer - Peter K. Frey. Sometimes with, sometimes without electronics, the low frequencies are used as starting point for experimental excursions integrating the MUG space into the overal sound concept. T
he music is a constant flow but always to the point, consistent but full of surprises. Through their unobtrusive and fresh approach Studer and Frey manage to challenge established categories and thought patterns. Double bass playing in more than one sense of the word.

Friday, June 17, 2011
MUG - Munich Underground at Einstein
A Big Dog In A Small Package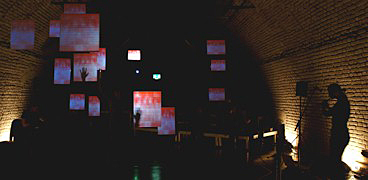 Sabine Vogel [flutes]
Mattias Petersson [live electronics]
Fredrik Olofsson [video installation]
Zufit Simon [dancing]
The first half year will end with an audiovisual event: low (and high) frequent bass flutes, live electronics and microphone applications in the room will mesmerize the open ears of our audience and the live video installations will capture their eyes. The dance performance will be the icing on the cake for this German Swedish project.

Friday, July 15, 2011
MUG - Munich Underground at Einstein
Geisse Janker Pöschl
modulated works


Georg Janker [bass, modulenz frequentator]
Sunk Pöschl [percussion]
Gunnar Geisse [laptop guitar]
Mo|du|la|ti|on, die; -, -en
A process during which a useful signal intended to be conveyed (i.e. this trio's opulent world of ideas) changes or modulates a so-called carrier signal (i.e. the jazz).
Back to the roots – this might be the motto of the present edition of "modulated works":
After all his trips to electronics, real time sampling and laptop sounds, Gunnar Geisse is once again discovering the charm of his original instrument, the guitar – the only difference being that his music is now spiced with his experiences in the digital world.
Sunk Pöschl's curiosity about New Sounds - both improvised and composed ones – has always been based on the rhythm, drive and groove of jazz.
And Georg Janker's vigorous approach to playing the bass, which fluctuates between shuhuru grooves and abstract sound experiments, arouses expectations of everything between straightforward jazz and thrilling and/or humorous excursions into the world of improvisation.

Thursday 13 October 2011
subsonicspace series
MUG - Munich Underground at Einstein
Astronomical Unit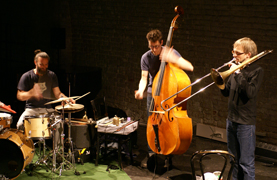 Mathias Müller [trombone]
Clayton Thomas [double bass]
Christian Marien [drums]
The Astronomical Unit was formed at the end of 2007 after Clayton Thomas had moved from Australia to Berlin. At this point, Matthias Müller and Christian Marien had already worked as a duo for many years.
Building on the duo's dense interaction and Clayton Thomas' signature style, the group quickly evolved its very own approach to improvised music.
The music of the Astronomical Unit sounds as if it was composed. The players direct their flow into channels of formal and structural clarity. Their awareness of American free jazz and European improv traditions is palpable, but they manage to challenge achieved conventions and to reinvent themselves continuously.

Thursday, 20 October 2011
ad hoc music 2011
MUG - Munich Underground at Einstein
hotelgäste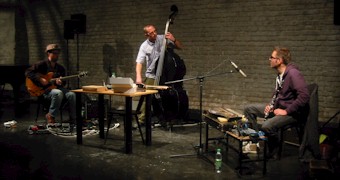 Dave Bennett [guitar, tapes, radio]
Derek Shirley [bass]
Michael Thieke [clarinet, zither]
hotelgäste - the name seems to imply vagueness and volatility, an inconspicuous, aimless coming and going. And yet: this German-Canadian cooperation gives rise to extremely precise and dense results.
Favouring fractally filigreed structures of microtonality rather than sonic blasts, they create wonderfully floating soundscapes. A constantly changing flow of tones and noise, silence and sound help us to experience familiar things with a completely fresh awareness.
The group's cohesion and the diverse input of every member generate complexity and clarity at the same time, promising an extraordinary concert experience.

Thursday, 27 October 2011
Reihe ad hoc music 2011
MUG - Munich Underground at Einstein
Duo 1510

Heidi Schnirch [dance performance]
Scott R.Looney [piano, electronics]
Klaus Janek [bass, electronics]
not in the picture: Judith Hummel [dance performance]
This duo came together for the first time at Looney's sound studio in Oakland, California, in 2009. The music is based on acoustically and structurally interacting territories, with concepts of logic and contrast as primary design methods. The result oscillates between meditative, almost ambient sounds, bold free jazz attacks and acoustic improvisation.
Klaus Janek comes from an avantgarde background, writes music for films, theater and dance and sees the bass not only as an instrument but also as a starting point for sonic research. Scott R. Looney has always been interested in a broad range of contemporary and experimental music, having played with people like Oliver Lake, ROVA, Joëlle Léandre and Henry Kaiser.
Klaus Janeks Affinität für Theater, Tanz und Performance ist es zu verdanken, dass wir im Verlauf des Konzertabends auch die zwei Tanzperformance-Künstlerinnen Judith Hummel und Heidi Schnirch begrüßen dürfen!

Friday, 18 November 2011
subsonicspace series
MUG - Munich Underground at Einstein
Pas Appât / Tensid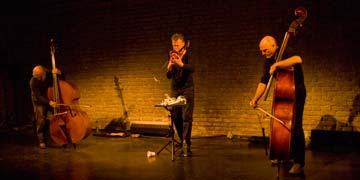 Georg Wolf [double bass]
Paul Hubweber [trombone]
Uli Phillipp [double bass]
Two improv duos of great caliber are brought together in this trio by Offene Ohren.
Nina Polaschegg on the bass duo Tensid: "The two players are well attuned; responding at lightning speed, they introduce pointed comments, additions, contrasts. At the same time they manage to evolve, even from widely different sounds, an extremely homogenous overall statement allowing each of the players slow or quick deviations at will."
The audio-magazine Bad Alchemy on Pas Appât: "Hubweber's tone has a gentle roughness that is furry or velvety or 180-grit sandpaper. The fundamental approach is silky but at the same time insistent and cautiously probing. Wolf, a key player of the Giessen Improvisers Pool and the ensemble Sondarc, plays around Hubweber's subtle work with delicate chirping. In addition to his bow, he seems to use needles for micropercussive accents and dainty seams. Voilà the good news of the new improvised music.

Sunday, 27 November 2011
ad hoc music 2011
MUG - Munich Underground at Einstein
Dans les Arbres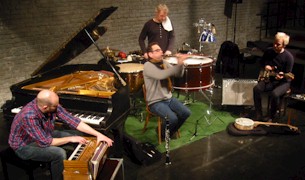 Christian Wallumrød [piano]
Xavier Charles [clarinet]
Ingar Zach [percussion]
Ivar Grydeland [guitare]
The name alone points strongly to the organically slow but steady and inexorable evolution of the group and its music.
During their last visit in Munich, at the Jazzlines in March 2009, they mesmerized their audience by originating, blending and transforming the subtlest of sounds and timbres. The core of the quartet was formed by Grydeland and Zach in the late 90's. Later in Norway - and also via ECM - they encountered Wallumrød and Charles. Finally in 2006, the quartet's music was documented on CD for the first time.
Even then they had an incredibly homogenous group sound that has been further perfected since. The group's concerts are like a film, making the audience forget time and space.
Sunday, 04 December 2011
subsonicspace series
MUG - Munich Underground at Einstein
Cri du Cœur - Strömungen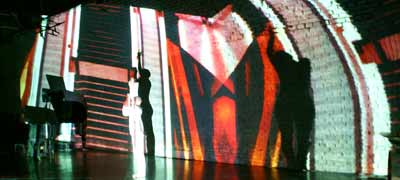 Fine Kwiatkowski [dance, video]
Willehad Grafenhorst [contrabass balalaika, electronics, video]
with guests:
Peter Geisselbrecht [piano]
Wolfgang Schliemann [drums]
Strömungen is a work in progress allowing artists to participate in a multimedia performance and to redefine rooms - in this instance the Munich Underground - through dance, music and video.
Computercontrolled projections are used to challenge the architecture of the premises in question. Spatial contours vanish in a collage of abstract and representational video images.
The dancing body conquers the room, changes the light's proportions and, interacting with the music, becomes itself a projection surface. The process in each case is determined by a sequence of light and images produced by two video projectors controlled by linked computers - the whole performance interspersed with a live video feed from a wireless microcamera on Fine Kwiatkowski's wrist.

Wednesday, 07 December 2011
ad hoc music 2011
MUG - Munich Underground at Einstein
Allbee - Cremaschi - Heenan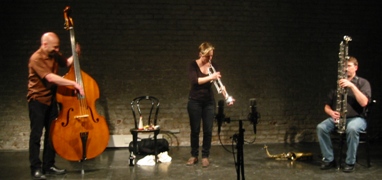 George Cremaschi [bass]
Liz Allbee [trumpet, electronics]
Chris Heenan [contrabass clarinet, alto saxophon]
The members of this trio hail from Vermont, New York and Washington DC but have got together in Berlin.
Drawing on diverse musical roots, the group succeeds in bringing freshness, complexity and unruliness to each of its concerts.
Albee focuses mainly on her trumpet here - with and without electronics. Cremaschi's musical vision encompasses, alongside jazz, contrasting styles like rock, folk, classical orchestra, theater and installations. Heenan works extensively as a solo performer on the contrabass clarinet and in a large variety of experimental music projects. One of these has already payed a visit to Offene Ohren: TeamUp with Michael Vorfeld and Jeremy Drake.


Concerts 2010
Friday, 03 December 2010
Klanggalerie t-u-b-e
Stellari Snow Duo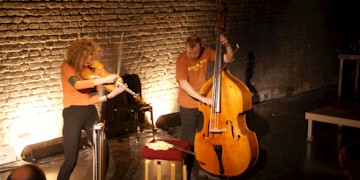 Charlotte Hug [viola]
John Edwards [bass]
Instead of a volcano's eruption in Spring, it was a snowstorm that caused a stir in December. After hours of waiting at the London airport, Phil Wachsmann and Marcio Mattos had to return home.
This way, the Stellari String Quartet became the Stellari Snow Duo. The audience in Munich responded with great enthusiasm.

Wednesday, 27 October 2010
Klanggalerie t-u-b-e
Okkyung & Peter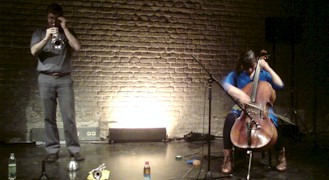 Peter Evans [trombone]
Okkyung Lee [cello]
Ever since their outstanding performance at last year's "music unlimited" festival in Wels, Austria, the reappearance of power trumpeter Peter Evans in Munich was a done deal. But in the duet with Korean Okkyung Lee, he will be able to assert his subtle side as well.
Okkyung Lee's cello playing on the other hand, seems more inspired by the restlessness of New York than by Far Eastern traditions. Expertly handling her instrument, Lee proves herself as an ideal improvising partner. This is also emphasized by the diversity of her musical contacts: Laurie Anderson, Derek Bailey, John Butcher, Fred Frith, Butch Morris, Leo Smith, John Zorn, to name only a few of a very long list.

Friday, 22 October 2010
Klanggalerie t-u-b-e
OirTriO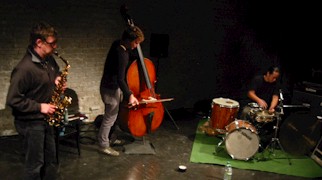 Frank Gratkowski [Saxofon, Klarinetten]
Sebastian Gramss [Bass]
Tatsuya Nakatani [Schlagzeug, Perkussion]
Another old acquaintance will stop by: Frank Gratkowski played in duet wit Sebi Tramontana at Seidlvilla and was also invited by the Unterfahrt to ad hoc music before.
OirTriO is the palindromic name of this formation that also includes Japanese sound architect Tatsuya Nakatani and German bassist Sebastian Gramss. Gramss is a master of full and dark colors with excellent arco-technique. And to label Nakatani as a mere drummer would border on the blasphemic since he is able to elicit sound storms as well as monumental silence from his arsenal of instruments.

Tuesday, 19 October 2010
Klanggalerie t-u-b-e
Sainct Laurens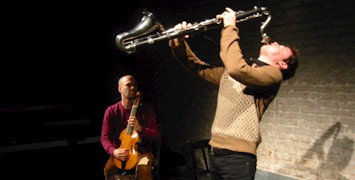 Pierre-Yves Martel [prepared viola da Gamba, loudspeakers and contact microphones]
Philippe Lauzier [bass clarinet, sax]
Representing the Canadian improv scene, Pierre-Yves Martel and Philippe Lauzier can be heard for the first time in Munich. An exceptional duo that consistently eludes categorization - be it through its unusual instrumentation, its concentrated musicality beyond all norms or simply through its choice of name.
This is how the players describe their work:
Silence.
Sparse, soft feedback,
Undulating rhythms, rippling.
Continuous sounds, trusting one another
Into complex textures, developing slowly, minimally,
Precisely.
(Un)prepared sounds, old and new.

Friday, 17 September 2010
Klanggalerie t-u-b-e
Wilbert & Wolter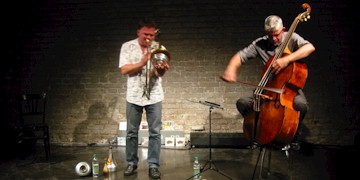 Wilbert de Joode [bass]
Wolter Wierbos [trombone]
Wilbert de Joode was a performer at the very first concert of Offene Ohren e.V, together with John Butcher and Martin Blume. This time he will bring along his compartiot Wolter Wierbos who is a rare guest in our city.
Their program is unusual as well as fascinating: Both play a solo first, concluding with a duet afterwards. Wilbert de Joode on their music: distinct, special, different, strange, odd, peculiar, remarkable, astonishing, curious, idiosyncratic, quirky, quaint, outlandish, bizarre, alien, extravagant, exceptional, extraordinary, extreme, eccentric ...

Thursday, 24 June 2010
t-u-b-e Klanggalerie
Salmosax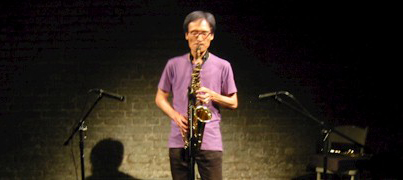 Katsura Yamauchi (solo saxophone)
Salmosax is the solo project of the Japaneses saxophonist Katsura Yamauchi. Although he has been around since the early 70's he has only recently become internationally known as one of the most distinct exponents of the Japaneses free and avant-garde improv scene.
Yamauchi's style combines new experimental sounds of the current Tokyo scene with meditative, traditional shakuhachi elements inspired by nature. His music is challenging and easy at the same time, unclassifiable, simple and clear. In 2004, Clive Bell characterised his style as "free imrpovisation to sing along with".

Monday, 07 June 2010
t-u-b-e Klanggalerie
Trio Doneda – Charles – Lê Quan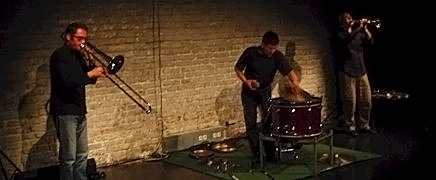 Fabrice Charles (trombone)
Lê Quan Ninh (percussion)
Michel Doneda (soprano saxophone)
Another highlight from the inexhaustible cornucopia of French improvisers. In 2009, Michel Doneda visited us for the first time, this time he comes to the t-u-b-e with Fabrice Charles, an improviser with classical background, and Lê Quan Ninh, one of the grand masters of percussive improvisation.

Sunday, 09 May 2010
t-u-b-e Klanggalerie
John Russell Workshop Concert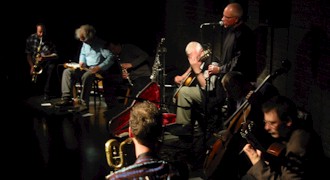 John Russell (guitar, conductor)
Cäsar Cechmann (saxophones, flute), Gunnar Geisse (e-guitar),
Udo Schindler (clarinets, bass clarinet), Markus Heinze (saxophones),
John Russell (guitar), Rainald Schwarz (voice),
Michael Kurz (cello), Robert Lampis (guitar)
On two intense workshop days in early May, John Russell, the great English guitar improviser, opened new doors of perception, interaction and musicality for seven chosen participants.
It was a meeting of highly individual performers. Despite, or maybe because of this, John Russell's unobtrusive, soft-spoken, precisely observing direction gave rise to collective structures, interrupted by spontaneous duos or trios and calculated excursions into chaos, which then evolved into common lines of timbre, timing and intensity.
The final concert was the magnificent conclusion of a weekend which all participants will remember fondly hoping for a continuation in the near future.

Thursday, 06 May 2010
t-u-b-e Klanggalerie
Duo Fagaschinski - Stangl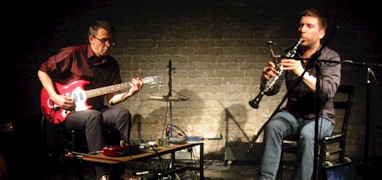 Burkhard Stangl (guitar)
Kai Fagaschinski (clarinet)
Masters of soft, interlacing microtones are at work here, who nonetheless are also able to raise walls of sound built from guitar drones that are immediately torn down by shrill clarinet staccatos. The spectrum ranges from Jimmy Giuffre to Jimi Hendrix with, occaionally, a folk ballad thrown in.

Thursday, 15 April 2010
Black Box, Gasteig
Phil Minton FERAL CHOIR Workshop Concert

Phil Minton (voice, conductor) & workshop participants
Two dozens of curious, sensitive, inventive and courageous workshop participants accepted the challenge of presenting their potentials and ideas to a large audience for the opening concert of the festival Lautwechsel organised by the free music scene in Munich - and proved a resounding success!
Initially bewildered, but soon excited, the audience watched as the Feral Choir, after only a few hours of workshop preparation, delivered a brilliant vocal performance that turned into a fascinating experience for everybody present.


Concerts 2009
Monday, 30 November 2009
Klanggalerie t-u-b-e
Denley & Myhr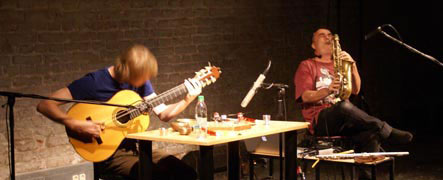 Kim Myhr [guitars, mechanical effects]
Jim Denley [saxophones, flutes, clarinets ]
A meeting of maximal contrasts - this is what the duo constellation of Jim Denley and Kim Myhr might seem on the face of it. Two generations from diametrically opposed geographic backgrounds joining up with string and wind instruments.
Astonishingly enough, the resulting music is so homogenous, melodic, playful, responsive that one might be tempted to think of structured compositions. No such thing.
During live concerts, as well as on their first CD published this spring, there are no prearranged verbal concepts. Accordingly, terms from notated music like ostinato, melody, harmony, rhythm, beat are not really helpful here. "I'm happier not knowing" is how Denley comments these attempts at explanation. Maybe "dance" is a more appropriate description than "language" for what happens in the duo's interaction - physical totality rather than analytical dissection.

Friday, 20 November 2009
Klanggalerie t-u-b-e
Clarinet 3

Gebhard Ullmann [bass clarinet]
Jürgen Kupke [clarinet]
Michael Thieke [alto clarinet, clarinet]
The most conspicuous aspect of Gebhard Ullmann's Clarinet Trio is its lineup: three clarinets and nothing else. No strings, no piano, no percussion. A trio in the traditional sense of the word, without entertainment ambitions and unneeded frills. That is, without electronics. Also, dispensing with artificial gimmicks or cheap appeals to current trends in life style.
The music is a mix of imaginatative composing and delicate improvising. But it is also capable of growling, onomatopoeia and melodic swing. Owing to its resourcefulness and brilliant technique, it can do without special effects.

Friday, 23 October 2009
Klanggalerie t-u-b-e
Team Up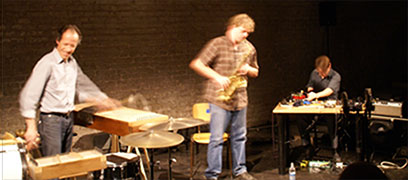 Michael Vorfeld [perkussion, stringed instruments]
Chris Heenan [alto saxophone, batyphone bass clarinet]
Jeremy Drake [guitar]
Team Up is an electroacoustic trio featuring Jeremy Drake (Los Angeles), Chris Heenan (Berlin) and Michael Vorfeld (Berlin).
After an initial phase, when Drake and Heenan played with various percussionists (Brian Christopherson, Jerome Byerton, Andreas Axelsson, Martin Blume, Tatsuya Nakatani), Michael Vorfeld has become a constant member of the team in 2005. Combining percussion instruments with self-conceived string instruments, he is substantially contributing to the group's sonic-sensible esthetics.
The music of Team Up thrives on the union of electroacoustic and purely acoustic sounds, flickering between extremely fragile forms and massive walls of sound. As a powerful live act, the trio knows how to captivate their audience with atmospherically dense textures and sonic layers.

Thursday, 08 October 2009
Klanggalerie t-u-b-e
Barre & Malcolm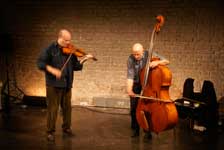 Malcolm Goldstein [violin]
Barre Phillips [bass]
The meeting of violinist Malcolm Goldstein and bassist Barre Phillips in 2004 was quite unusual. Their first duo performance at the Densités Festival in Metz came about by accident after a planned trio concert had to be cancelled owing to circumstances. But this became an initial spark for the future. Eighteen months later they met again to further explore their newly discovered common territory on a short tour through the South of France.
Both are American, about the same age, they both lived and worked in New York City in the 60's (and never met) where they made their first encounters with free improvisation - Goldstein in a contemporary music setting and Phillips on the free jazz scene. They've both worked a lot with contemporary dance. In the 70's both left the buzz of metropolitan life to live in the countryside, without electricity and telephone: Goldstein in Vermont and Phillips in the French Provence.

Saturday, 12 September 2009
Klanggalerie t-u-b-e
Ensemble 2013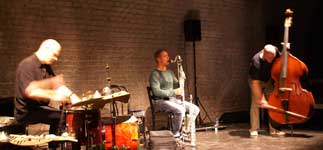 Wolfgang Schliemann [percussion]
Joachim Zoepf [soprano saxophone, bass clarinet]
Ulrich Phillipp [bass]
The Ensemble 2013 was founded in 2006 by Joachim Zoepf. Stylistically, it belongs to the new improvised music that came about in the 60s of the 20th century as an independent music genre, combining the expressive energy of free jazz with the rich sounds of new composed music.
Time and again the Ensemble 2013 manages the tightrope walk between these poles. This trio is looking for challenges, not least in interdisciplinary projects like dance and performance. There is a winsome transparency and openness of communication among the group's members and with the ever changing concert situation. Hesitation, seeking, euphoria, childlike joy of playing, a desire for experiments on the basis of longtime familiarity and technical prowess - all these factors are conveyed authentically and spontaneously.

Sunday, 07 June 2009
Klanggalerie t-u-b-e
John & John

John Butcher GB [saxophones]
John Edwards GB [bass]
Two unique musicians!
John Butcher and John Edwards continue the long British tradition of duo-improvisation enhancing it in many surprising ways. Given the conventional instruments - saxophone and bass - one would expect an equally conventional programme. If you do, you had better brace yourselves for disillusionment. Rather expect two grandmasters of improvisation.
Departing from their virtuoso accomplishments on their respective instruments, the two of them keep exploring new sounds, unusual techniques and amazing effects. And listening to them you may not always be absolutely sure which of them is producing which sounds.
There is even more! Both of them love "precisely not" doing what the partner may be expecting at any given moment, or, in a double bluff, doing exactly that. And then there are phases when their playing seems to be the music of two instruments controlled by one common brain, only to be followed by episodes of the players' seemingly entire ignorance of one another. As a consequence, the listeners can never be sure of what will come next. The two improvisers' means of expression are just too different and too wide-ranging. The result can be a minimalistically and extremely densely woven sound carpet or an eruptive dialogue full of power. A feast for Open Ears!
We are looking forward to a unique concert experience, for although this duo has existed for more than a decade there are not too many occasions when it actually gets together.


Friday, 15 May 2009
Klanggalerie t-u-b-e
Sirens and Blossoms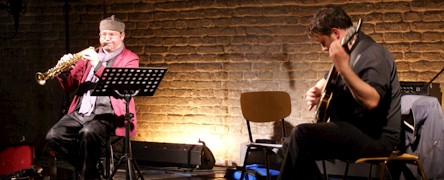 Hannes Wienert [soprano saxophone, trumpax, tubes, sheng ]
Sascha Demand [electric guitar]
Sirenen und Blüten (sirens and blossoms) is the title of the latest CD production of the two Hamburg artists Sascha Demand (electric guitar) and Hannes Wienert (soprano saxophone, sheng, trumpax, tubes). The two musicians generate fragile sound-worlds characterised by introverted intensity and pragmatic conciseness.
"A grindingly eruptive affair producing a surprising mix of outlandish sounds. With his wind instruments, Hannes Wienert chokes and woos Sascha Demand's guitar, the whole resulting in colourful abrasions." (Zipo, auf Abwegen)

Wednesday, 29 April 2009
Gasteig Black Box
Notation vs. Improvisation
- much more than a lecture around the music and thoughts of Cardew, Skempton, Feldman, Tilbury and AMM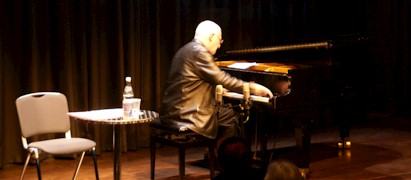 John Tilbury [piano and rezitation]
Offene Ohren presents an exclusive performance by the pianist, experimentator and outstanding interpreter of New Music, John Tilbury.
However, due to recent personal developments, we decided to adapt the subject of the evening to a certain degree. While the music and thoughts of Cornelius Cardew (1936 - 1981, biography published by Tilbury) still will be part of the picture, the central theme will be a discussion around notation and improvisation, compared and contrasted with performing notated/improvised music. This will be based on Tilbury´s own experience as an improviser, like a personal credo.
To round up the evening, also short musical (audio and video) examples will be given, to illustrate some, partly radical, approaches of Tilbury and his musical coevals to musical performances.
With this presentation, Offene Ohren e.V. enters the meta-level of their mission - rather than simply give outstanding examples of improvisation concerts, we try to enlighten the thoughts and philosophies behind. and we are glad to have one of the Grand Masters here to lead us.
Welcome to an evening full of insights and surprises!

Wednesday, 08 April 2009
Klanggalerie t-u-b-e
Michel Doneda (F) and Nils Ostendorf (D)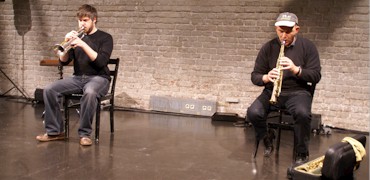 Nils Ostendorf [trumpet]
Michel Doneda [Bb sopransaxophone, C sopransaxophone]
At their first meeting on a concert stage during last year's Moers Festival, Michel Doneda and Nils Ostendorf immediately felt a close musical affinity.
The direct play with the physicality of a wind instrument as a generator of sounds and tones, the colourful use of air-sounds, overtones, percussive blowing techniques or circular breathing, as well as the tightrope walk between the inaudible and the unplayable allowed the two instruments to fuse into one organic sound that pulsates, grows into a polyphonic weave, and suddenly freezes only to lead to a crescendo bursting with energy.
The intuitive play with density and dynamics combined with the artful use of silence and duration results in a vibrant, refreshing music that is bound to intoxicate the listener.

Sunday, 05 April 2009
Gasteig Black Box
Gino Robair & Munich Improvisers

Gino Robair [drums]
Laura Konjetzky [piano]
Christoph Reiserer [saxophone]
Jürgen Schneider [percussion]
It has become a sort of tradition for Offene Ohren to invite international guests for musical conversations with members of the Munich improvisers' scene. This year we are looking forward to meeting the American Gino Robair. He is a drummer, composer and sound experimentator from the San Francisco Bay area. Energized Surfaces is his term for describing his enhancements of the conventional drumkit, which he has turned into a resonator for a great variety of other objects. Robair has improvised and composed with, among others, the ROVA Saxophone Quartet, Anthony Braxton, Fred Frith, John Zorn and John Butcher.
Robair will interact with the Munich-based musicians Laura Konjetzky, Christoph Reiserer und Jürgen Schneider in thrilling dialogues, solos and explorations of musical territories.




The concerts are organised by Offene Ohren e.V. (main organiser) and City of Munich, Department of Arts and Culture (co-organiser).
© 2007-2020 Offene Ohren e.V.
last update 23 December 2019