Offene Ohren e.V. presents Improvised Music
You can download an overview of all concerts as a pdf. Press fotos can be found in the press area.
Dear friends of improvised music,
we had a great time at our jubilee party. Now we are looking forward to our next concert:
Saturday, 25 October 2014, 8 p.m.
subsonicspace
MUG - Munich Underground at Einstein
WisseLyttonNies – 2+2 = 3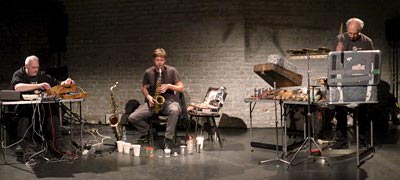 Georg Wissel, prepared saxophones
Paul Lytton, custom-made percussion
Joker Nies, custom-made electronics
2+2=3 combines Georg Wissel's longstanding duos with percussionist Paul Lytton and 'electrosapiens' Joker Nies in a new trio, which makes for a highly unorthodox mix not only as far as algebra is concerned but also in view of Lytton's well-assorted percussives, Nies' custom-made electronic sound devices and Wissel's (prepared) saxophones.
Based on their search for a new and personal sonic language, Georg Wissel and Paul Lytton have for many years examined possibilites to modify and adapt their instruments to changing artistic needs. Their acoustic workshop duo was founded in 2006.
A self-declared sculptor of compressed air, Georg Wissel uses extended saxophone techiques as well a broad array of utensils for preparing his instruments. Paul Lytton, on the other hand, plays his 'table', arranging and bringing to life a vast number of meticulously picked household and percussion items.
The trio is rounded out bei 'electrosapiens' Joker Nies who has been experimenting with all kinds of electronic and analogous devices for live improvisation and sound design since the early 80s. Aiming for unpredictable connections, Nies frequently interferes as a resistor and waveguide with the wiring of his open circuits, omnichords and mysterious sythesizers.
There are no hidden agreements or concepts, all cards are played openly. The listeners become equal witnesses in an associative artistic process resulting in a sophisticated blend marked by sheer delight in and a strong sensibility for all kinds of sound and noise.

Location: MUG - Munich Underground
Entrance fee: 14 Euro, members of Offene Ohren e.V. 10 Euro
Sunday, 16 November 2014, 8 p.m.
subsonicspace
MUG - Munich Underground at Einstein
RHRR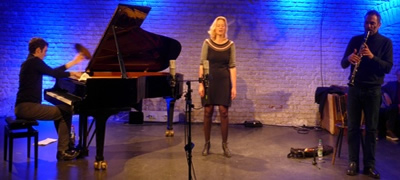 Frédéric Blondy, präpariertes Piano
Guylaine Cosseron, Stimme
Xavier Charles, Klarinette
Seit einem guten Jahrzehnt hat sich die Stimme Guylaine Cosserons nun schon mehr und mehr ein gleichwohl eigenständiges wie sehr persönliches Profil geschaffen. Weder ging sie den Weg Richtung Jazz à la Great American Songbook, noch in die kühle, schwebende Welt des nordischen Ambient-Gesangs. Aber sie wurde auch nicht zu einer weiblichen Inkarnation Phil Mintons, den sie gleichwohl bewundert.
Hartnäckig und zielsicher verfolgte sie ihren eigenen Weg, und einschlägig bekannte Kooperationspartner, wie Joëlle Léandre, Michel Doneda, Sophie Agnel, John Russell, Jean-Luc Guionnet taten das ihrige dazu.
Frédéric Blondy, ein Meister des präparierten Flügels und Gebieter über ein unerschöpflich scheinendes Klangarsenal, und Xavier Charles, dessen Klarinette schon in einer Vielzahl von Improvisationskontexten zu hören war, - beide waren bereits bei den Offene Ohren zu Gast – sind hier ihre Partner. Eine erfolgreiche Japan-Tournee liegt diesen Sommer hinter den drei Musikern.
Die Musik dieses Trios ist geheimnisumwittert, reduziert und sehr privat, aber auch exaltiert und extrovertiert. Verflochtene Klanglinien aus Stimme, Klavier und Klarinetten werden durch rauhe, perkussive Stakkatos und rohe Klangflächen aufgebrochen, nur um im nächsten Moment wieder zärtlich die Stille zu umspielen.
Location: MUG - Munich Underground
Entrance fee: 14 Euro, members of Offene Ohren e.V. 10 Euro

Friday, 12 December 2014, 8 p.m.
subsonicspace
KIM at Einstein
Schiller – Ulher Duo
Christoph Schiller, Spinett, Objekte
Birgit Ulher, Trompete, Elektronik, Lautsprecher
Christoph Schiller und Birgit Ulher formen ein bemerkenswertes Duo:
Eines das sich zuhören kann, und eines das miteinander ungewöhnliche und faszinierende Soundwelten erschafft.
Jedes Zusammentreffen ist eine neue Reise in unerforschtes Klangterrain, neue flüchtige Strukturen der Sounds, die aus dem Potential ihres Instrumentariums erwachsen. Beide verstehen es mit großer Konzentration und Präsenz, dieses Rohmaterial in ein spannungsgeladenes, merk-würdiges Hörerlebnis zu gießen.
Der intime Rahmen des KIM im Einstein bildet den idealen Rahmen für die subtilen Mikrogeräusche, die Christoph Schiller seinem Spinett selten genug auch manchmal über die Klaviatur entlockt, und den gehauchten, geflüsterten Trompetensounds und Miniaturlautsprecher-Aufbauten Birgit Uhers.
Location: KIM at Einstein
Entrance fee: 14 Euro, members of Offene Ohren e.V. 10 Euro



The friends of improvised music of the Offene Ohren e.V. would like to thank the Kulturreferat München for its continuous help allowing to present the actual subsonicspace series.

© 2007-2014 Offene Ohren e.V.
last update 19 October 2014