Offene Ohren e.V. presents Improvised Music
APPLAUS für Offene Ohren e.V. !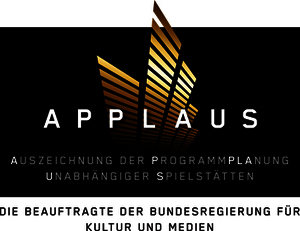 Am Montag fand die feierliche Preisverleihung für herausragende Livemusikprogramme in Köln statt. Offene Ohren e.V. ist einer der glücklichen Preisträger. Hannes Schneider nahm den Preis Applaus in der Kategorie III für Offene Ohren e.V. entgegen.
Für sein "herausragendes Liveprogramm" wurde unser Verein zum zweiten Mal nach 2014 mit einem Preis geehrt, was uns außerordentlich freut und uns anspornt, so weiterzumachen!
APPLAUS – Auszeichnung der Programmplanung unabhängiger Spielstätten ist ein Projekt der Initiative Musik, das in Zusammenarbeit mit der Bundeskonferenz Jazz (BK Jazz) sowie der LiveMusikKommission, Verband der Musikspielstätten in Deutschland e.V. (LiveKomm), durchgeführt wird.
unser nächstes Konzert im MUG:
Friday, 02 December 2016, 8 p.m.
subsonicspace 2016
MUG - Munich Underground at Einstein Kultur
Die Hochstapler
Louis Laurain, trumpet / F
Pierre Borel, saxophone / F
Antonio Borghini, double bass / I
Hannes Lingens, drums / D
Photo: © Pierre-Chinellato
The work of the Italian-French-German quartet "Die Hochstapler" (The Impostors) is based on questions of language and communication. Refraining from any use of notation, rules and strategies developed out of poetry, card games, alphabets and other sources of inspiration form the grammar for the hochstaplerish discourse.
The main source for these concepts lies in the discovery of the writings of the exceptional musician and mathematician from Chicago, Alvin P. Buckley. A pioneering scientific resarcher (probability theory) and versatile musician back in Chicago, Buckley retired from active music making after an epiphanic encounter with Stockhausen, but kept writing down ideas for musical games, structures and strategies for collective composition, as well as melodic fragments and short philosophic aphorisms, in his journal.
The vast majority of entries in Buckleys journal (1959-1964) circles around how musical communication could potentially be organised. Natural laws, rules and strategies. Poetry, card games, alphabets. Four independent voices, free to suggest, pretend, agree, disagree or ignore at any time of the game, collectively build up a rhetoric, full of hints and references, playful and ever changing.
Location: MUG - Munich Underground at Einstein Kultur
Entrance fee: 15 Euro, members of Offene Ohren e.V. 12 Euro



The friends of improvised music of the Offene Ohren e.V. would like to thank the Kulturreferat München for its continuous help allowing to present improvised music in Munich.
© 2007-2016 Offene Ohren e.V.
last update 24 October 2016