Offene Ohren e.V. presents Improvised Music
Tuesday, 20 March 2018, 8 p.m.
Subsonicspace 2018
MUG - Munich Underground at Einstein Kultur
Trio Mukti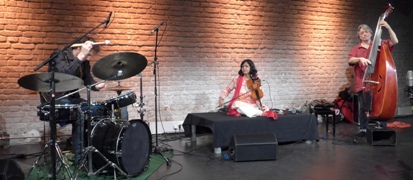 Emil Gross, drums / AT Photo:© Simon Attila
Paul Rogers, bass / GB
Anupriya Deotale, violin / IN Photo:© Ishita Shah
The Mukt trio is, by their own account, a project dreamed up by the cosmopolitan Udo Preis from Southern Burgenland, who acts as an enterprising organiser for the improv/Jazz festival Limmitationes at Rudersdorf. The rhythm section, also known as Peal duo, has been a stable fixture there for years. At one of the workshops they met Anupriya Deotale and formed this trio that manages to merge in a perfect way elements of classical violin playing and traditional improvising methods from India with European free improvisation.
Anupriya Deotale has done her M.A.(Master of Arts) and M.Mus.(Master of Music) both in Violin with a gold medal from Khairagarh University and Vikram University Ujjain. She has founded Ameer Khusro Centre For Music to promote the awareness,the knowledge and the cultural value of Indian Classical Music among the youth of India.
She has a unique style of her own, on the lines of fusion in which she blends the elements of "Gayaki" i.e. vocal rendering and "Tantarakari" i.e. instrumental rhythmic patterns. Anupriya Deotales Violinimprovisationen lassen klar ihre Wurzeln in der reichen indischen Musiktradition erkennen.
At the same time, she is always looking for challenging musical experiments. In the trio with British bassist Paul Rogers and Viennese drummer Emil Gross, she succeeds in creating a unique amalgamation of experimental harshness and spiritual depth.
Paul Rogers has been on the wish list of Offene Ohren for a long time. He is mostly known for his long-standing tenure in the free improv quartet Mujician of Keith Tippett. A player of finesse and feeling, he has appeared on dozens of albums, performing also with Mike Westbrook, Elton Dean, Paul Dunmall, John Stevens, Michel Doneda, Tony Levin, Alan Skidmore, Gerry Hemingway, Don Byron, Tom Cora, Louis Sclavis, Evan Parker and Ivo Perelman, to name a few.
Emil Gross is an extraordinary drummer of the younger generation who has played in his own groups alongside Jazz luminaries like Oliver Lake and Joe Fonda and has also instigated multiple cross-over projects with promising young musicians and dancers.
Some live recordings of the Mukti trio can be heard on Soundcloud.
Location: MUG - Munich Underground at Einstein Kultur
Entrance fee: 15 Euro, members of Offene Ohren e.V. 12 Euro

Friday, 06 April 2018, 8 p.m.
Subsonicspace 2018
MUG - Munich Underground at Einstein Kultur
Double Dansk Solo
> Measures
> Frogs /Toads
Henrik Pultz Melbye, reeds / DK Photo:© Niels Fabæk
Adam Pultz Melbye, bass / DK Photo:© H. Schneider
This double feature is a kind of family enterprise by the Pultz Melbye brothers from Denmark. Adam the bassist has already impressed us back in 2015 as part of the Lotte Anker Trio with his intensity, accuracy and zest.
Adam Pultz Melbye, who has lived in Berlin since 2013, comes back as a soloist with his project Measures. His diligently built up musical structures are informed by an appreciation of precision and small details as well as a jaunty playfulness and an adventurous search for new sounds – whether bowed, plucked or percussive.
Eyal Hareuveni, on allaboutjazz.com, wrote about his second solo album Measures (Dez. 2017): "Melbye, gifted with masterful and highly creative command of the double bass, uncovers the insides of this massive instrument in a series of nine concise improvisations. […] "That" is a wise and playful improvisation that employs the resonating wooden characteristics of the bass and on "Zossener" it sounds as if the bow is the main instrument and the double bass is employing various extended techniques on the bow. "Knee Left" returns to the opening improvisation, applying similar methods and reaching a satisfying closure in this arresting journey. Highly impressive."
His younger brother Henrik lives in Copenhagen and is also working in the experimental and improvised vein. His first activities included the direction of an avant-garde rock band.
In 2011 he graduated from The Academy of Music in Esbjerg with a Master in Music. In 2017 he continued studies at the Advanced Postgraduate Diploma programme at the Rythmic Music Conservatory in Copenhagen.
In his solo program Frogs/Toads he plays mainly acoustic tenor saxophone, focusing on spatial interactions and the acoustic conditions in spaces of the most diverse dimensions.
Short and precise improvisations are played in a highly intense and disciplined way. They document Henri Melbye's complex and rich vocabulary as well as his mastery of the instrument, at times even achieving multiharmonics by the use of breathing techniqe and feedback.
On his internet site there are various concert videos.
"He's exploring the possibilities of the saxophone with minimalistic tonepaintings and sound-wrenching tensions. It's challenging, varied and exciting." Niels Overgård, Jazznyt.com
Location: MUG - Munich Underground at Einstein Kultur
Entrance fee: 15 Euro, members of Offene Ohren e.V. 12 Euro

Tuesday, 17 April 2018, 8 p.m.
Piano 2018
MUG - Munich Underground at Einstein Kultur
(ein)blicke – TanzMusikPerformance
Roland Dahinden, trombone / CH Photo: © Gary Soskin
Christian Wolfarth, percussion / CH Photo: © H. Schneider
Hildegard Kleeb, piano / CH Photo: © Gary Soskin
Fine Grafenhorst, dance / DE Photo: © Pere Pratdesaba
Three musicians and a dancer encountering an unknown room.
Who are they? What kind of room is it that encloses them? Does it provide shelter? Does it create space for other rooms?
Four different journeys and biographies, four performers meeting and opening for insights (Einblicke) into their individual perspectives and perceptions.
Specifically for this concert, Fine Grafenhorst (née Kwiatkowski) has developed this project in collaboration with her Swiss colleagues.
Fine Grafenhorst: "Frequently I get together with artists from the fields of contemporary dance, music, visual arts and acting. These encounters reflect a moment full of intensity and excitement, attraction and repulsion, entailing to a large extent the risk of failure but also the possibility of exhilarating ecstasy or silence. A kind of conversation able to grasp very directly and deeply the essence of what cannot be said in words."
Fine Grafenhorst was a guest of Offene Ohren in 2011 with her multimedia-project Cri du Coeur, and Christian Wolfarth visited us late last year with Der Verboten. It is the first time we can welcome pianist Hildegard Kleeb and trombonist Roland Dahinden.
Roland Dahinden studied trombone and composition at Musikhochschule Graz with Erich Kleinschuster and Georg Friedrich Haas and at Scuola di Musica di Fiesole in Florence with Vinko Globokar. From 1992-95 he was an assistant to Alvin Lucier and Anthony Braxton at the Wesleyan University, Connecticut. In 2002 he earned a PhD at Birmingham University, England, studying withVic Hoyland.
Posaune und Komposition, zunächst an der Musikhochschule in Graz bei Erich Kleinschuster und Georg Friedrich Hass und bei Vinko Globokar an der Scuola di Musica in Fiesole bei Florenz. Von 1992-95 war er Assistent von Alvin Lucier und Anthony Braxton an die Wesleyan University in Connecticut. 2002 schloss er ein PhD Program bei Vic Hoylund an der Birmingham University (GB) mit dem Doctor of Philosophy in Music ab.
As a trombonist he is at home in improvised music and Jazz as well as New Music. He has performed in a duo with his wife, the pianist Hildegard Kleeb, since 1987..
Hildegard Kleeb studied piano at the Zurich Music School and later with Eric Gaudibert in Geneva and Jürg Wyttenbach at the City of Basel Music Academy. She is an improvisor and performer of New Music. She stayed at Wesleyan University from 1992-1995 together with Roland Dahinden and worked with Anthony Braxton, Alvin Lucier and Christian Wolff.
Roland Dahinden and Hildegard Kleeb have been on concert tours throughout Europe as well as in America, Africa and Asia.
They share a fondness for visual arts. Among Roland Dahinden's compositions there are sound installations and sound sculptures.
In an article for Zentralschweiz am Sonntag, Hildegard Kleeb has described her approach: "I imagine the grand piano as standing and sounding in space. The piano as a kind of sonic mass on which I work like a sculptor."
We are looking forward to new insights!
Location: MUG - Munich Underground at Einstein Kultur
Entrance fee: 15 Euro, members of Offene Ohren e.V. 12 Euro

Saturday, 21 April 2018, 8 p.m.
Subsonicspace 2018
MUG - Munich Underground at Einstein Kultur
Akira Sakata Trio: ARASHI
Paal Nilsson-Love, drums / NO
Johan Berthling, bass / SE
Akira Sakata, saxophone / JP
Photo: © Micke Keysendal
Arashi means «storm» in Japanese, and this word is indeed apt to describe the ultra-powerful music of the trio put together by the legendary saxophonist and clarinettist Akira Sakata. Akira Sakata ist vielen noch als Teil des Yosuke Yamashita Trios aus den Siebziger Jahren in Erinnerung.
Accompanied here by a diabolical, Nordic rhythm, Akira Sakata is capable of unleashing free sparkling illuminations or more intimate, but always personal, atmospheres. Arashi alternates thunderstorms in the form of rapid and intense free assaults, with moments of pure contemplation (the calm after the storm ?) where Akira Sakata uses a warm and moving clarinet, or some powerful throat singing, by which we are instantly transported. An exceptional trio.
Johan Berthling ist Bassist im Spannungsfeld zwischen europäischem Free Jazz und experimentellem Rock unterwegs und hat mit so ziemlich allen nordeuropäischen Schwergewichten dieser Genres zusammengespielt, wie zum Beispiel Sten Sandell, Christer Bothén, David Stackenäs, Raymond Strid. Er ist Mitbegründer von so energielastigen Gruppen wie Fire!, Nacka Forum und Tape, und ist von daher eine logische Ergänzung zu Paal Nilsson-Love und Akira Sakata im Power-Trio Arashi.
Paal Nilssen-Love ist laut downbeat (Dan Quelette) "einer der innovativsten, dynamischsten und vielseitigen Schlagzeuger der aktuellen Szene". Zu einem guten Teil ist dies seiner Arbeitsweise geschuldet: Er ist gleichzeitig in einer Vielzahl von Bands und Projekten aktiv, die als gemeinsamen Nenner jedoch immer ein hohes Energie- und Dynamik-Niveau aufweisen. Genannt seien hier stellvertretend The Thing, Territory Band, Atomic, Sten Sandell Trio und vor allem das Brötzmann Chicago Tentet, aber auch Duos mit Ken Vandermark, Mats Gustafsson oder Lasse Marhaug. Die Basis wurde schon in seiner Jugendzeit gelegt. Er wuchs als Sohn eines Schlagzeugers und Jazzclub-Betreibers im norwegischen Stavanger auf und kam schon früh mit Saxofonist Frode Gjerstad in musikalischen Kontakt.
This concert, like the one by Free Jazz icon Peter Brötzmann eighteen months ago, promises to be an event full of energy and power. It is not by chance, that in 2011 Brötzmann insisted on inviting Akira Sakata for his anniversary festival in Wels as one of a number of prominent Japanese guests that he had encountered during his many tours through Japan.
The Viennese label Trost Records has published the LP/CD "ARASHI" (TR130, 2014) as well as a CD of a live concert in 2017 at the Fylkingen, Stockholm: ARASHI - Trost Live Series (TLS001).
Location: MUG - Munich Underground at Einstein Kultur
Entrance fee: 15 Euro, members of Offene Ohren e.V. 12 Euro

Monday, 14 May 2018, 8 p.m.
Applaus 2018
Black Box im Gasteig
Tilbury, Prevost & Vandermark
The Core of AMM meets Vandermark
John Tilbury, piano / GB
Ken Vandermark, saxophones / US
Eddie Prevost, drums / GB
Photos: © Peter Gannushkin
Offene Ohren e.V. is particularly proud and eager to present this exceptional concert – maybe this year's highlight.
It is an encounter of two musical worlds which despite their differences share a mindset of radical innovation.
Pianist John Tilbury and drummer Eddie Prevost, both from Britain, are the current nucleus of the epoch-making improv ensemble AMM.
AMM was founded as early as 1965 by saxophonist Lou Gare, guitarist Keith Rowe and Eddie Prevost. In 1980 John Tilbury joined the group. The musicians participating in AMM developed a language and and performance attitude, that went well beyond anything possible at that time in New Music and Free Jazz.
As a consequence, the group became a paragon for improvisors of diverse backgrounds, ranging from Rock to Classical, and for the emergence of a unique form of free improvisation, comparable maybe only with the improv ensemble Musica Elettronica Viva formed around the same time by Alvin Curran, Frederic Rzewski and Richard Teitelbaum.
AMM is always acting as a collective. Despite the importance of individual voices for the process of interactive music making, the result remains strictly focused on collective improvisation and not on a series of solo contributions.
US Jazz saxophonist und clarinetist Ken Vandermark manages to conform to this approach, while at the same time substantially adding to the proceedings due to his multi-stylistic interests, his openness for new sounds and his tendency for breaking down conventions.
There is a long list of musicians who have recorded albums with him, including Hal Russell, Paul Lytton, Joe Morris, Peter Brötzmann and Paul Lovens. Many ensembles came together under his leadership, for instance Free Fall, Free Music Ensemble, Territory Band (a large orchestra with chaning lineup), Rara Avis and – probably best known - the Vandermark 5.
A sample of the trio's work can be found on YouTube: Eddie Prévost / John Tilbury / Ken Vandermark Trio @ Manggha Krakow, 11th November 2017.
Location: MUG - Munich Underground at Einstein Kultur
Entrance fee: 15 Euro, members of Offene Ohren e.V. 12 Euro

Friday, 13 July 2018, 8 p.m.
Subsonicspace 2018
MUG - Munich Underground at Einstein Kultur
Olaf Rupp - Ulrike Brand Duo
Ulrike Brand, cello / DE
Olaf Rupp, guitar / DE
Photo: © Paetrick Schmidt
The specific consonance of cello and electric guitar creates the unique poetics of this Berlin duo Ulrike Brand and Olaf Rupp.
Despite of belonging to very different semantic fields — cello the instrument associated with the romantic sound ideal and electric guitar as a synonym for rock music — they reveal confusingly similar timbres and playing techniques.
Arco and pizzicato are just as exchangeable as are overtone sounds, arpeggios, clusters, noise and other extended techniques. This is only possible because of an elaborate setup of loudness-modulation on the electric guitar. The result is a stylistic freedom in an associative "play" with similarity and role exchange, reprise and anticipation. The duo-constellation is potentiating these effects when the continuing input of sounds from one player becomes part of the overall sound and at the same time acts upon the other player creating a reciprocal flow of communication.
Because of her experience in performing contemporary classical compositions in the past decades, cello player Ulrike Brand can draw upon all the varieties of different extended playing techniques that are used there. She uses sounds and noises as equivalent material, pitch is treated as a continuum and the whole body of the instrument can create sounds. This is also accentuating the gestural element of the performance.
Guitar player Olaf Rupp explores on his instrument in uncompromising radicallity the field of free improvisation. The extreme virtuosic playing techniques which he has developed by himself are the result of a unique artistic discipline far away from the usual standards and conventions. He is always expanding the sonic range of his instrument evermore. In his subtle, pointillistic soundworld every single note appears as a colour-dot inside of a larger matrix.
Audio samples on Soundcloud and YouTube.
Location: MUG - Munich Underground at Einstein Kultur
Entrance fee: 15 Euro, members of Offene Ohren e.V. 12 Euro

>> Offene Ohren e.V. received Federal Music Award APPLAUS 2017 for its outstanding live music program
On October 25, 2017, the Federal Prize APPLAUS was awarded for the fifth time in Dresden by the Minister of State for Culture and the Media, Prof. Monika Grütters, to independent music clubs and organisers for their excellent live music programs. We were in attendance.
For its "outstanding live program", Offene Ohren e.V. has received this award for the third time after 2014 and 2016. We are highly honored and encouraged to continue in our course. With the prize money, we will continue to offer you exciting concert experiences in 2018.
.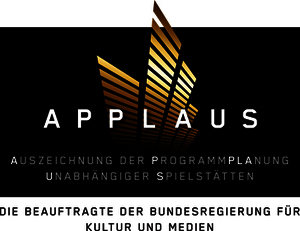 The Venue Programme Award APPLAUS – Auszeichnung der Programmplanung unabhängiger Spielstätten - is realised by the Initiative Musik, with the collaboration of the Bundeskonferenz Jazz (BK Jazz) and the LiveMusikKommission, Verband der Musikspielstätten in Deutschland e.V. (LiveKomm). The bulk of the project's funding is provided by the German Federal Commissioner for Culture and Media.



The friends of improvised music of the Offene Ohren e.V. would like to thank the Kulturreferat München for its continuous help allowing to present improvised music in Munich.
© 2007-2018 Offene Ohren e.V.
last update 04 February 2018