Are you looking for an improvised music festival in Europe? Perhaps you will find one here on this site.
Offene Ohren e.V. presents Improvised Music
Saturday, 17 June 2017, 8 p.m.
applaus series 2017
MUG at Einstein Kultur
Feichtmair - Harnik - Polaschegg
Elisabeth Harnik, piano / A
Tanja Feichtmair, saxophone / A
Nina Polaschegg, bass / A
Vigorous intensity, bright expessivity and abstract deceleration are what we can expect when three musical personalities of this caliber come together: Tanja Feichtmair, saxophone, Elisabeth Harnik, piano and Nina Polaschegg, bass.
Tanja Feichtmair lives in Ulrichsberg. She improvises solo and in groups, reflecting the evolution of American free jazz as well as the timbral esthetics of European origin.
Elisabeth Harnik lives in Styria, working as a composer and performer of New Music, contemporary jazz and improvised music.
Nina Polaschegg lives in Vienna working as an independent music publicist and scholar. As a bassist, she focuses mainly on free improvisation but is also regularly concerned with the historical performance practice of her instrument.
All of them already appeared at the MUG, and now we can hear them together for the first time. A real highlight!
... and one made possible only by APPLAUS 2016 (Auszeichnung der Programmplanung unabhängiger Spielstätten), an award of the Initiative Musik in collaboration with the BK Jazz (Bundeskonferenz Jazz) and the LiveKomm (LiveMusikKommission).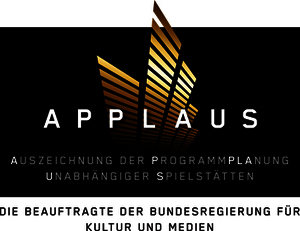 For its "outstanding live program", Offene Ohren has received this prize for the second time after 2014, and we are highly honored and encouraged to continue in our course. At this point, we'd like to say thank you to the Initiative Musik and the the Federal Commissioner for Culture and Media.
Location: MUG - Munich Underground at Einstein Kultur
Entrance fee: 15 Euro, members of Offene Ohren e.V. 12 Euro

Friday, 14 July 2017, 8 p.m.
subsonicspace Series 2017
MUG im Einstein Kultur
Ute Wassermann & Birgit Ulher
Ute Wassermann, voice / D
Birgit Ulher, trumpet / D
Knowing Birgit Ulher you could expect something in the vein of Berlin reductionism. But even though monochrome noise is indeed part of the trumpet's sound spectrum this duo's approach is full of dense and vibrant energy.
Ute Wassermann's completely unpretentious style takes close listening to reveal its wealth of expressive means culminating in overtone singing, whistling and percussive clicks. Entirely refraining from verbal or tonal allusions, the singer, in collaboration with the trumpet, builds a web of sounds and tones mainly in the treble register, that makes it difficult for the listener to distinguish the voices.
Progressing in parallel or merging in a hand-in-glove consonance, these two hunters of art and gatherers of substance manage to build their common material tests by focusing on one fine nuance after the other. Thus, we can look forward to an improvising encounter full of spellbinding adventures and playful surprises.
Too good to be missed!
Location: MUG - Munich Underground at Einstein Kultur
Entrance fee: 15 Euro, members of Offene Ohren e.V. 12 Euro



The friends of improvised music of the Offene Ohren e.V. would like to thank the Kulturreferat München for its continuous help allowing to present improvised music in Munich.
© 2007-2017 Offene Ohren e.V.
last update 23 May 2017